Equipment and Other Tools for Taking Fireworks Photos with Any Camera
If you read the first part of this series, then you're familiar with the settings, lenses, and other tools you'll need to take great shots at the next fireworks display. However, there are a few other things that you'll need to think about, including your vantage point and how to stabilize your camera or smartphone. And, if you're using a smartphone or point-and-shoot camera, there are a few tips that can make the difference between muddy images and crystal-clear bursts of light and color. Use the tips below, and you'll capture fantastic photos no matter what camera or device you're using!
1. Picking a Vantage Point
If possible, head for high ground. This puts you above trees and other obstacles, and it also gives you a better angle to the fireworks, which makes for more dynamic images.
The other consideration is the smoke. Before you head out, check which way the wind will be blowing. Make sure that it's blowing away from you; otherwise, the smoke from the explosions will cloud your images. This comes with an added bonus: The clouds of smoke, because they are reflective, often make great backdrops for the fireworks.
---
---
2. Use a Tripod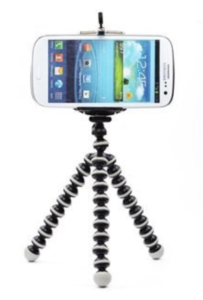 As with any type of long-exposure photography, a tripod is a must for fireworks shows. Even if you're using a smartphone camera, you can still find tripods that mount directly to the phone. Use them to keep your camera motionless and your images clear.
3. Settings for Smartphones and Point-and-Shoots
If you're using a point-and-shoot camera or a smartphone camera, you'll need access to many of the same controls that a DSLR has. For the most part, point-and-shoots have all those controls. Look for a "manual mode" that will allow you to have complete control over your camera's settings.
For smartphones (both Android and IOS), you can download apps that give you more control over the phone's camera. Bear in mind that while many phones have fixed apertures, you should still be able to adjust the ISO and shutter speed using either the phone's native camera app or one that you downloaded. Camera FV-5 for Android and my favorite PureShot for ISO.
4. Using Burst Mode
Most smartphones and point-and-shoots don't have a bulb setting or an option to use a remote shutter release. In that case, try using the burst mode instead. When activated, your phone or camera's burst mode will take a series of images without you needing to move or handle the device. Once you have several sets of images, you can pick and choose from among the best frames.
Are you ready to go out and capture some great fireworks images of your own? It doesn't matter what kind of camera you have – a high-end DSLR or the camera that comes with your phone. As long as you know the right settings and techniques, you'll be creating bright, colorful fireworks photos in no time.